Marketplace update: Creative Tim invests in Themesberg, becoming a shareholder; A new design system in the works, and exciting new tehnologies arriving by the end of 2020
I hope this marketplace update finds both you, your family, and friends in good health amid the global pandemic. This year has been crazy so far, but that does not mean we stop bringing exciting new products and features to Themesberg. Let's get to the point.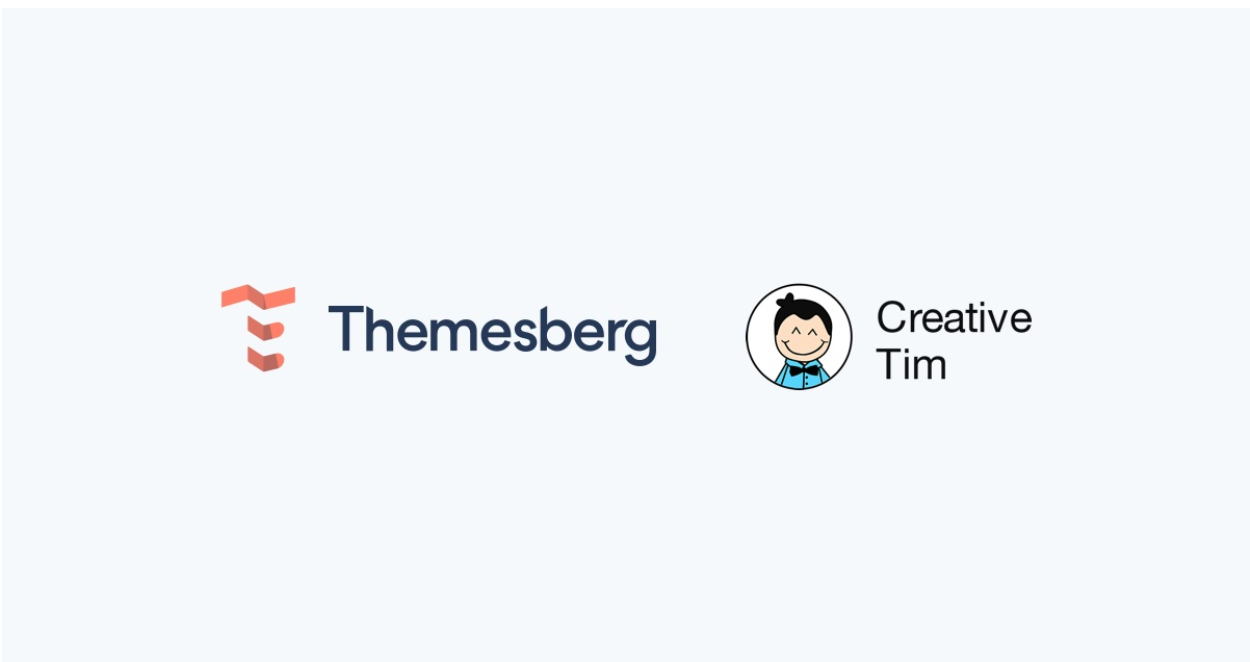 Big news! Creative Tim is now officially a shareholder of Themesberg by investing for 10% participation in Crafty Dwarf LLC. Since last year, we've been working closely with them and even launched a joint product called Impact Design System.
The investment will not change the current leadership and production team behind Themesberg, but rather help us with valuable knowledge and technologies in the long term. The investment money will be used exclusively to develop new themes, website features, and other excellent developer tools in approximately one year.
So what exactly is expected to happen for Themesberg and the users of this marketplace after this association? Here's a shortlist:
As per the demand of our users, we will start providing our themes in technologies such as React, Angular, and Vue.js much faster and better (each technology integration will also get a free, open-source equivalent project)
Valuable knowledge sharing based on the extensive experience of Creative Tim resulting in better products, updates, and customer support for Themesberg
More joint projects with Creative Tim resulting in exciting new products with fresh design and integration ideas
The financial investment will be used for the new product integrations, website features, and developer tools
The products from Themesberg will be available to the audience of more than 1.4 million developers from Creative Tim
A long term partnership with exciting new ideas and a vision for helping website developers, software companies, and entrepreneurs all over the world
Fresh new design system in the works
Yes, you heard that right! We are already working on a new design system based on our bestseller Pixel Pro UI Kit. I will not offer you too many details, but I will provide you with an exciting piece of information.
We are working on both a light and dark version of the design system, and those who have or will purchase Pixel Pro until the new design system's launch receive a 50% reduction in price!
The design system will be much more different from the other themes that we have built so far with a new methodology and much better usability for developing any number of websites with it, focusing on sections and pages, rather than components only.
Exciting new technologies arriving by the end of 2020
This has been something we've already been working on together with Mike and Victor since the end of this summer. Mike is working on the Angular version of Pixel Pro Bootstrap 5 UI Kit, and Victor is working on the React integration of Volt Pro, the first Bootstrap 5 Dashboard on the market.
Progress is outstanding on both projects, and we are optimistic that we can deliver both versions by the end of this month.
Otherwise, you should expect that most of the projects from Themesberg will get an integration in these popular technologies such as React, Angular, Vue.js, and not only. We will create a poll with all of our users to see which technology is in the highest demand. We would like to see if there is a demand for back-end frameworks, such as Laravel, Express JS, .NET, and a few more.
We will write a final marketplace update towards the end of the year, publishing statistics, milestones, and a vision for the next year for Themesberg. Until next time.
Take care,
Zoltán & Robert, Founders of Themesberg