11 Best Black Friday Software Deals for Developers and Designers
The time of the year has arrived when many online businesses offer the best discounts and deals for the whole year. Black Friday has now started! In this article, I want to present to you the best 10 deals I have encountered in the past few days if you're a web developer or designer.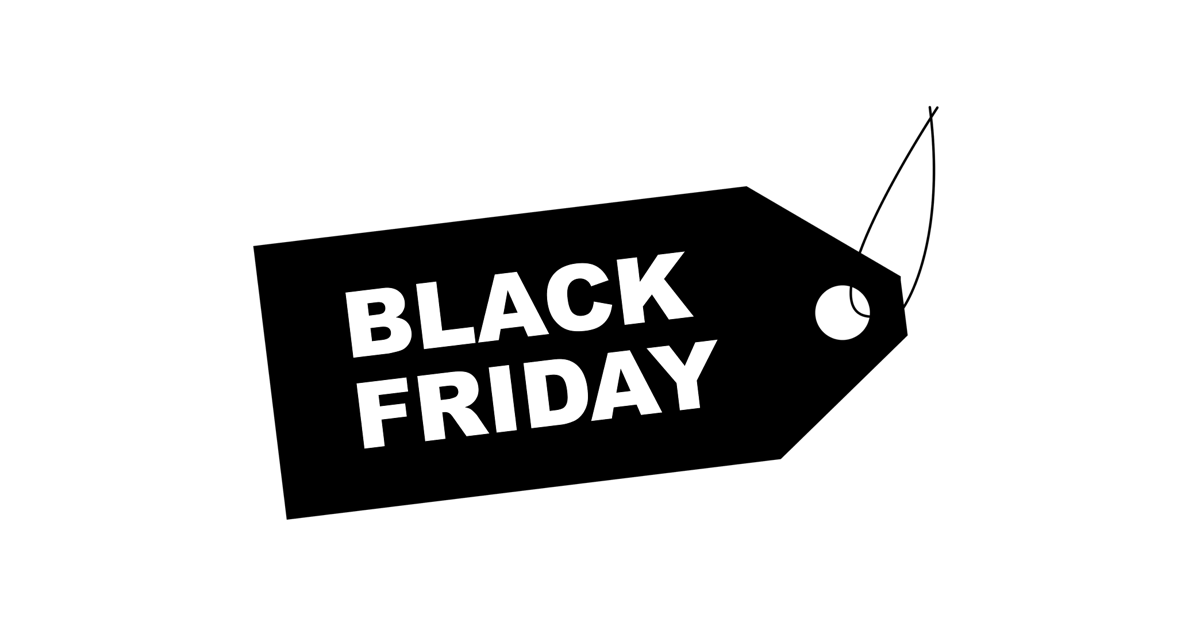 Every deal that is presented below has a real discount because I have verified the history of the prices throughout the year using webarchive.org. If you've saved up a few bucks for this time of the month, I suggest you take advantage of these deals while they're still available.
The main criteria for each deal are as follows:
Quality of the product is above the market average
A good reputation as a brand and positive reviews overall
Consistent discounts based on the regular price
Without further ado, here's the list for Black Friday 2020,
Themesberg - up to 94% off for Bootstrap themes, admin templates, and UI kits
Themesberg is a growing brand that has been around for almost two years, and it is known for launching both open-source and premium website themes, admin dashboard templates, and UI kits based on the Bootstrap CSS framework. The products are used by over 6000 developers and software companies all over the world.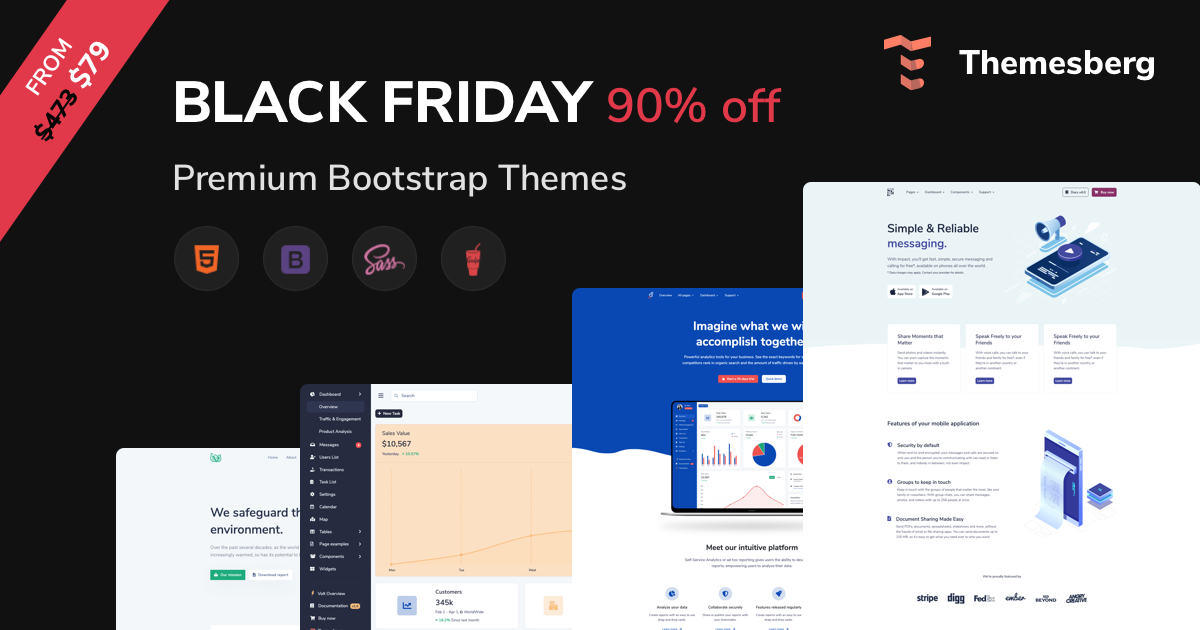 The deal is simple, you can get every premium theme ever launched on Themesberg starting from only $479 $79 for the Freelancer License. There are only a limited number of orders available, so hurry up before there's nothing left. The deal will expire on November 28.
Themesberg Black Friday 90% Off
Creative Tim - 90% off for template stacks for Bootstrap, React, Vue.Js, Angular, and Laravel
Creative Tim is another respectable brand providing open-source and premium templates in technologies such as Bootstrap, React, Vue.Js, Angular, Laravel, and many more. Products from Creative Tim are used by over one million developers all over the world.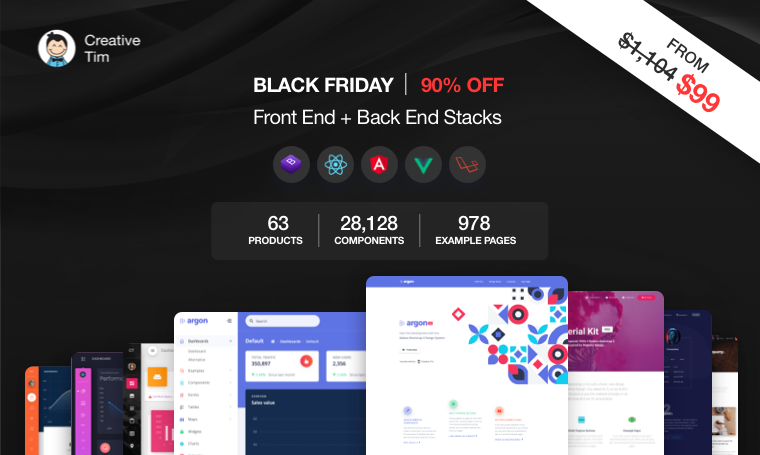 What I like about their offer is the abundance of templates in each stack and the fact that they have created a stack-based on technologies. It means that if you're used to working with React, you can only buy the React stack and you'll get a lot of templates, UI kits, and admin dashboards that you can use for many years to come for your projects.
Overall, I recommend checking out their main Black Friday page and see if one of the stacks is a good fit for you or your company.
Creative Tim 90% Off Black Friday
AppSeed - 70% Off Premium Dashboard Templates in Flask and Django
AppSeed is another awesome brand integrating admin dashboards, templates, and UI kits from popular theme creators and integrating them in technologies such as Flask or Django. I love the fact that they offer 24/7 live support and that you can also join a Discord server and talk with the creator of these dashboards.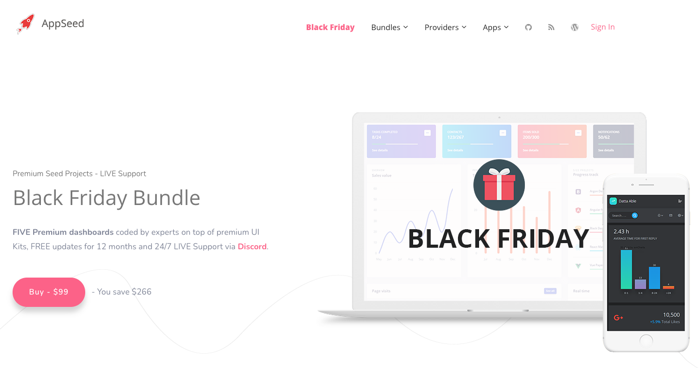 The price reduction is generous for this year's Black Friday promotion and you can get the bundle starting from $99 for the Personal License. If you're a big fan of Flask or Django I recommend you check out their Black Friday deal page.
AppSeed - 70% Off Black Friday
Bluehost - Up to 60% Off Website Hosting
Bluehost is a popular and affordable way to get your website online using their hosting services and servers. This year they are offering a huge discount of up to 60% per month, meaning that you can get a hosting plan for only $2.65/month, normally costing you $8.99/month.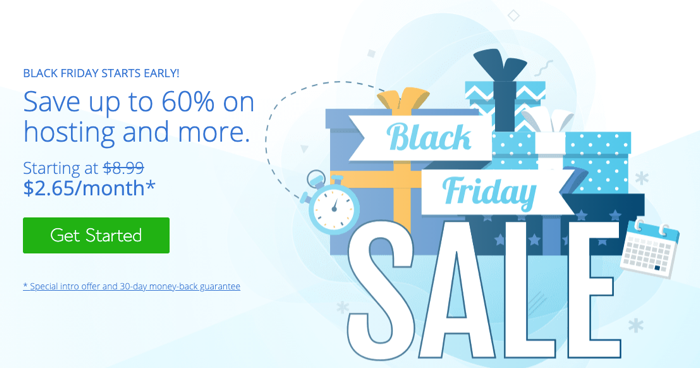 If you've been thinking about hosting a website, or if you want to switch to another hosting service, perhaps now is the time to make this move and take advantage of this big discount.
Bluehost - 60% Off Website Hosting
Namecheap - Up to 98% off for domains
I personally always use Namecheap to purchase domain names and also to manage the DNS records of my website, it has never failed me. I manage over 40 domain names using Namecheap and I've never been more satisfied with a service for registering domain names. Previously I have used GoDaddy and I had some bad experiences with them.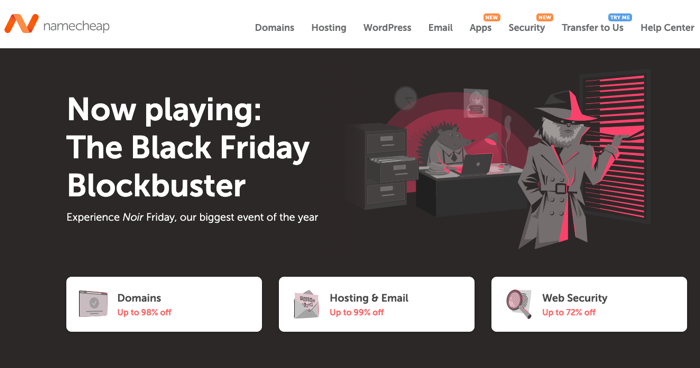 In this deal you can get the following price reductions for each top-level domain:
.com - 44% off
.net - 54% off
.org - 54% off
.io - 21% off
.co - 90% off
.dev - 27% off
.us - 73% off
.co.uk - 34% off
.ai - 19% off
All you need to do is apply the code BFTLDREG when checking out. The deal expires on November 30, so if you had some great domain ideas, now is the time to register them with a great price.
Namecheap - Up to 98% Off Black Friday
WiseStamp - 50% off premium subscription for email signature generator
WiseStamp is an email signature generator that saves you time and headache on setup and upkeep of your email signature. It's been around for over 12 years and has over 1 Million active users. What I love about WiseStamp is that it's really simple to use. Anyone can use it to make a complete signature with images, banners, buttons and social media icons in no time at all. They even connect your signature to your Gmail or Office 365 web app automatically, which I think is a cool feature.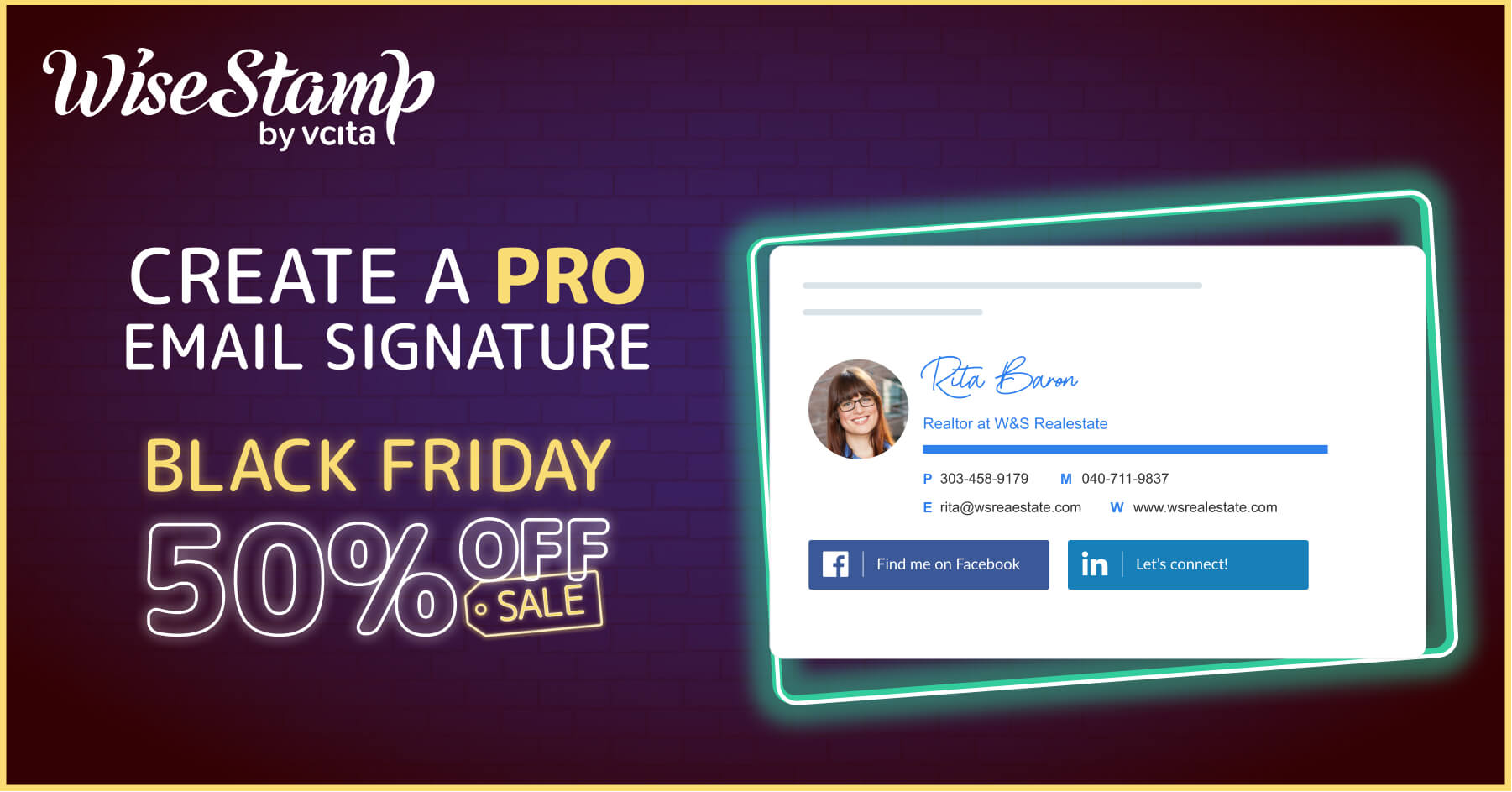 WiseStamp is freemium software with more features and functionality made available to you when you purchase the premium subscription. Their Black Friday and Cyber Monday deal gives you 50% off their premium subscription, down to $35 from $70, billed yearly.
WiseStamp - 50% Off Email Signatures
BootstrapDash - Up to 90% Off Admin Templates, Themes, UI Kits
BootstrapDash is a great place to get admin dashboard templates based on the most popular CSS framework Bootstrap. They also launched an interesting "Spin the Wheel" type of deal where you can win one of the following prizes:
90% off on the "Mega Bundle" - Get their bundle of 50+ premium templates with 100+ dashboard layouts, UI kits, etc, at $99 (regular license) and $199 (developer license);
100% off on any UI Kit - Choose any one of their premium UI Kits, and get it for free (regular license only).
30% off on any template - Flat 30% off on all templates.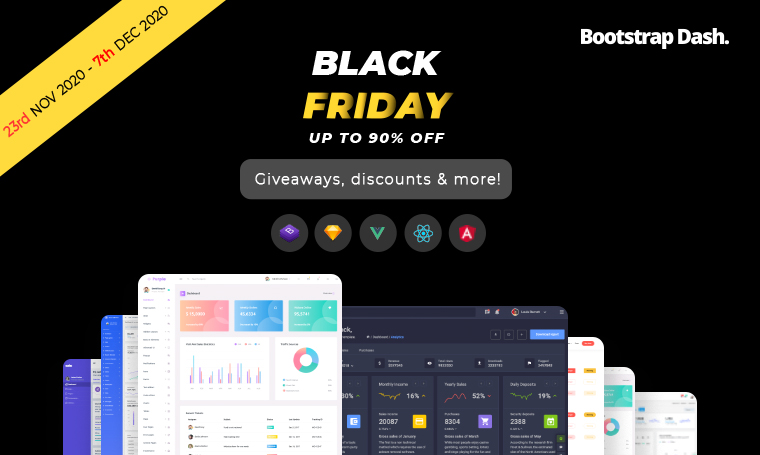 You can also get a flat 25% off on all bundles, and 20% off on every template on BootstrapDash. They have a large variety of dashboard interfaces so it's worth checking out the portfolio of products. The offer is available until December 4.
BootstrapDash - 90% Off Admin Templates, Themes, UI Kits
Adobe Creative Cloud - 20% Off
If you're a web designer it is hard to believe that you have never used or aren't using a product from the Adobe stack, whether that would be Photoshop, Illustrator, XD or anything else. Personally use Illustrator to modify most of the SVG files that I need to work with, even though I also use Sketch more often.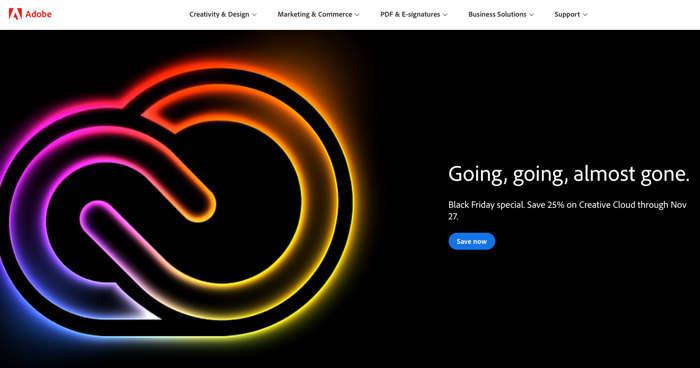 If you're paying for their products on a monthly basis, it's a good idea to take advantage of this deal and pay for a whole year's worth of subscriptions, saving 20% overall. I recommend you to check out the Black Friday deal page and see if it's a good deal for you or your team. The deal will end on November 27.
Adobe Creative Cloud - 20% Off Black Friday
Nord VPN - 68% Off + 3 Months Free
Protecting your privacy when browsing online is an important thing to be aware of and you also get a lot of advantages of being able to browse the internet as if you were in countries, such as the United States, Germany, Japan, or many more. When I was in China last year, I had to use a VPN service to be able to use websites such as Gmail, Facebook, or Instagram.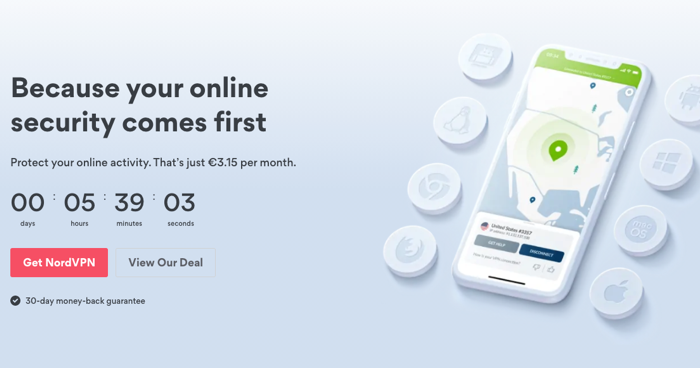 They have a great deal right now and you can get a VPN service for only $3.75/month and you also get 3 free months. That's quite a bargain. If you want to use a VPN service and protect your privacy, this is the team to take advantage of this deal.
Nord VPN - 68% Off + 3 Months Free Black Friday
Udemy - Courses from $9.99 and limited deals
Udemy is a great resource for junior and intermediate web developers and designers to expand their set of skills and knowledge. Personally, I've watched some courses from Udemy in the past and I must say I really did learn a lot of things that help me with my projects to this date.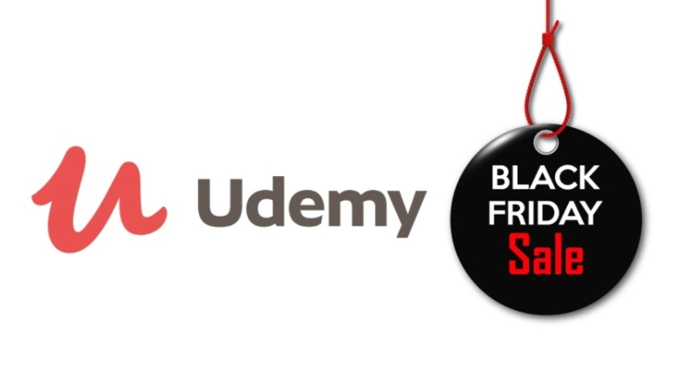 There are lots of courses on Udemy and most of them have a different kind of this Black Friday discount, some of them starting from only $9.99. The campaign will end on November 27, so hurry up before it ends.
Udemy - $9.99 Courses Black Friday
Mockplus - Up to 70% Off for the cloud subscription
Mockplus is a great service if you're a web designer and you want a better tool to design your product using their software. It is focused on building great user interfaces for the web and mobile markets.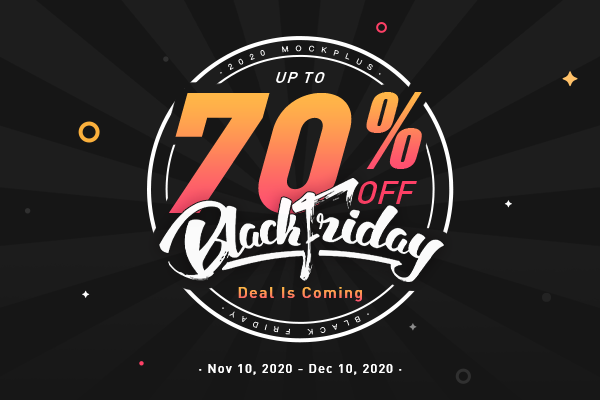 You can get 50% off on all Mockplus plans right now without any coupons. Plus, you can enjoy a Double Discount for Group Buying. The offer is available until December 10.
Mockplus - Up to 70% Off Cloud Plans
That is the whole least of the Black Friday deals that caught my eye this year. I have purchased some domains from Namecheap, subscribed for a year of NordVPN, and purchased a year's worth of Adobe Creative Cloud. I would've purchased the Themesberg bundle as well, but because I work here I already have access to them by default.
Leave a comment below and let us know what did you purchase during this Black Friday or if you want a deal to be posted here that were not aware of.